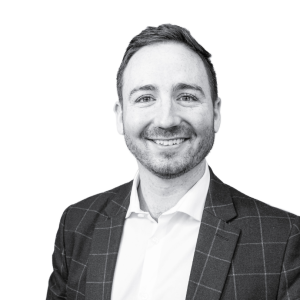 By: Michael Lutes CFP, CLU
Certified Financial Planner
It's a brand spankin' new year, (2023 baby!). The calendar has turned, the slate is wiped clean, you're at mile zero! You have twelve whole months to kick some butt when it comes to managing your money and financial planning! (Wow, I'm getting energized just writing this!!)
Perhaps you've already begun brainstorming ways to improve your finances in 2023. Maybe you're hunting for new tax-efficient planning strategies. Or you think your investment portfolio could use a revamp. Or, after spending time with loved ones over the holidays, you're inspired to audit your insurance and estate plans.
Or, like so many of us, you truly don't know where to start.
Here's a tip…
Start with your values. Let those values motivate your goals, life objectives, dreams. Whatever you want to call them, start there.
So, what are your values? Seriously, yours, what are they? Take a moment, take a minute, take whatever time you need…
No, no, no, not THOSE values…. those are the values you think you should have. The ones your brother incepted inside of you when you were chatting over the holidays. Or maybe those values are the ones your Instagram feed is telling you to have – fancy cars, fancy food, fancy vacations, fancy clothes, fancy blah blah blah.
Not those.
I'm talking about YOUR values. The ones that truly reflect the deepest sense of what cultivates happiness in you. The ones that make you feel authentically happy to just be. The ones that when you're living in alignment with them you are at your most satisfied, most at peace, most content, and most fulfilled.
THOSE are your values.
(Ummm, I thought this was a financial planning blog…no?)
How does this apply to financial planning?
While considering all the calculator stuff – tax, investment returns, insurance, etc. – the best financial planning is done in a space where decisions of how to use your money – or capital (more on capital later) – are in alignment with your values. This is where financial confidence builds. This is where the real financial planning magic happens.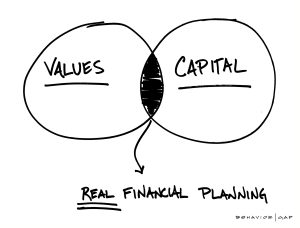 In this space, you stop obsessing over moves in the stock market, you don't really care what shows up in the daily financial news, you can genuinely listen to your neighbor's stock tip from their cousin who "worked on wall street" and effortlessly separate opinion from truth and move on.
This is the space where you can be totally and completely confident and fulfilled in your financial decision making, because you know it aligns to your values and your life objectives.
So, when it comes to financial planning this year, start with your values – dig deep, be real, be honest, be reflective – and let your values motivate your goals that ultimately drive your decision making.
Do this, and you'll be kicking butt in 2023!
And if you're one of us who, like most, need help uncovering their values and articulating their goals, we recommend talking to a trusted advisor who can help you through the process. If you don't have a trusted advisor, schedule some time with us – we love to help!